Bespoke Jewellery Service
There is nothing more special than creating your very own bespoke piece of jewellery. Whether you are looking for a gift for someone dear in your life or creating something unique for yourself; at Haywards we make sure that your ideas and inspiration are carefully translated into an exquisite piece of jewellery. We pride ourselves in being truly bespoke each and every step of the way; from designing initial sketches and images to stone selection and the finishing touches to the jewellery itself.
Step 1: Send Us Your Enquiry

Send us your enquiry to bespoke@haywards.com.hk or contact us directly at +852 2545 4400.

Step 2: Lock Down a Meeting

We are happy to meet you at our bespoke design studio or set up a meeting via Skype. We are open from 10am to 6:30 pm Monday to Saturday.

Step 3: Discuss Your Ideas

Tell us your wishes, ideas, timeline and budget. From fairly simple designs to sophisticated bespoke creations. We are here to guide you through the decision making process.

Step 4: Quote Preparation

We will prepare initial pricing quotes based on your ideas and preferences.

Step 5: Choose Your Diamond or Gemstone

At Haywards we have the flexibility of showing you a wide selections of stones. We offer a detailed explanation  of their characteristics and pricing allowing you to make a comfortable and informed decision. We search for the right materials until we find exactly what you are looking for.

Step 6: Design Approval

Discuss and approve your design with Haywards design team. We will send you 3D CAD images or sample sketches detailing your bespoke design. At this point there is still room for changes. We will work with you until you are 100% satisfied with your piece.

Step 7: Jewellery Making

Let Haywards designers and jewellery craftsmen do their magic. From start to finish our bespoke design process takes about three weeks depending on the complexity of the design.

Step 8: Pick Up Your Pieces

Whether you are based in Hong Kong or in another location, there are many ways for Haywards jewellery to get to its final destination. Resizing finished pieces such as bracelets, pendants and even rings is always a possibility.
Book a Meeting With Our Designers
From diamond and gem buying advice to design options and ideas. Our designers are here to help you every step of the way. Book a meeting in person in our Hollywood Road studio or chat with us via Skype. Distance is not an issue!
Choose Your Stones
Whatever your budget, at Haywards we can easily accommodate quality gems and diamonds to the amount you want to spend. All materials sourced are particular to your project and your preferences. We talk you through and show the various options, so that you can make an informed choice that is perfect for you.
Design Your Piece
Whether you are looking for a simple design or something entirely unique, Haywards designers are here to guide you through the design process. We work from images, sketches, and even abstract concepts to create jewellery that is entirely bespoke and specific to you. Don't hesitate to contact us with your wishes!
Diamond and Gem Consultation
Choosing the perfect stone can prove to be a complicated task, even for those who have purchased fine jewellery in the past. At Haywards, through our comprehensive consultation process we ensure that each decision made is clear and informed. Each and every diamond and gem is sourced and tailored to the specific requirements of our customers. By explaining the essential 4C's of diamonds and showing the different quality of gems first hand; we are able to explore a myriad of choices. Based on the particular criteria; the shape, the size, quality and cost we offer the opportunity to examine a wide selection of stones without any obligation to purchase.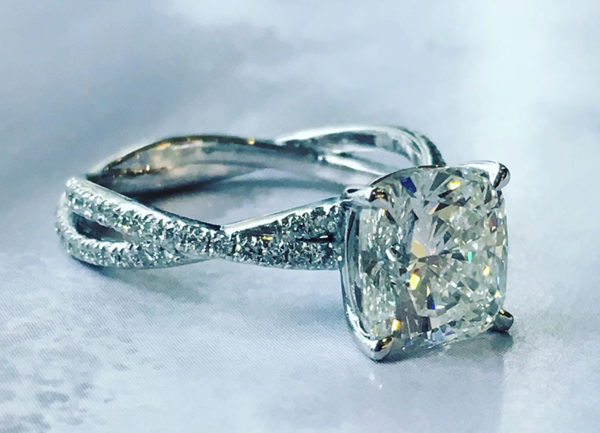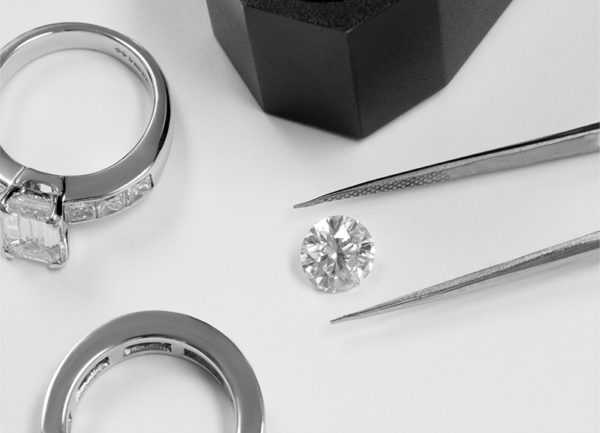 Jewellery Reconstruction
If you have items of value that sit in your jewellery box never worn; you may want to consider using the stones to have new bespoke designs handcrafted. Reconstruction of jewellery is quite different from repair; usually involving either amending the item significantly, or removing the stone and making a new design of jewellery altogether. Read more about our reconstruction process here!
Jewellery Repair
However well made an item of jewellery may be, it will still be exposed to everyday wear. From simple servicing to more complex repairs, at Haywards we guarantee the highest level of craftsmanship and service. Email us with an image of your piece, materials used, type of repair and we will happily get back to you with a timeline and pricing quote.