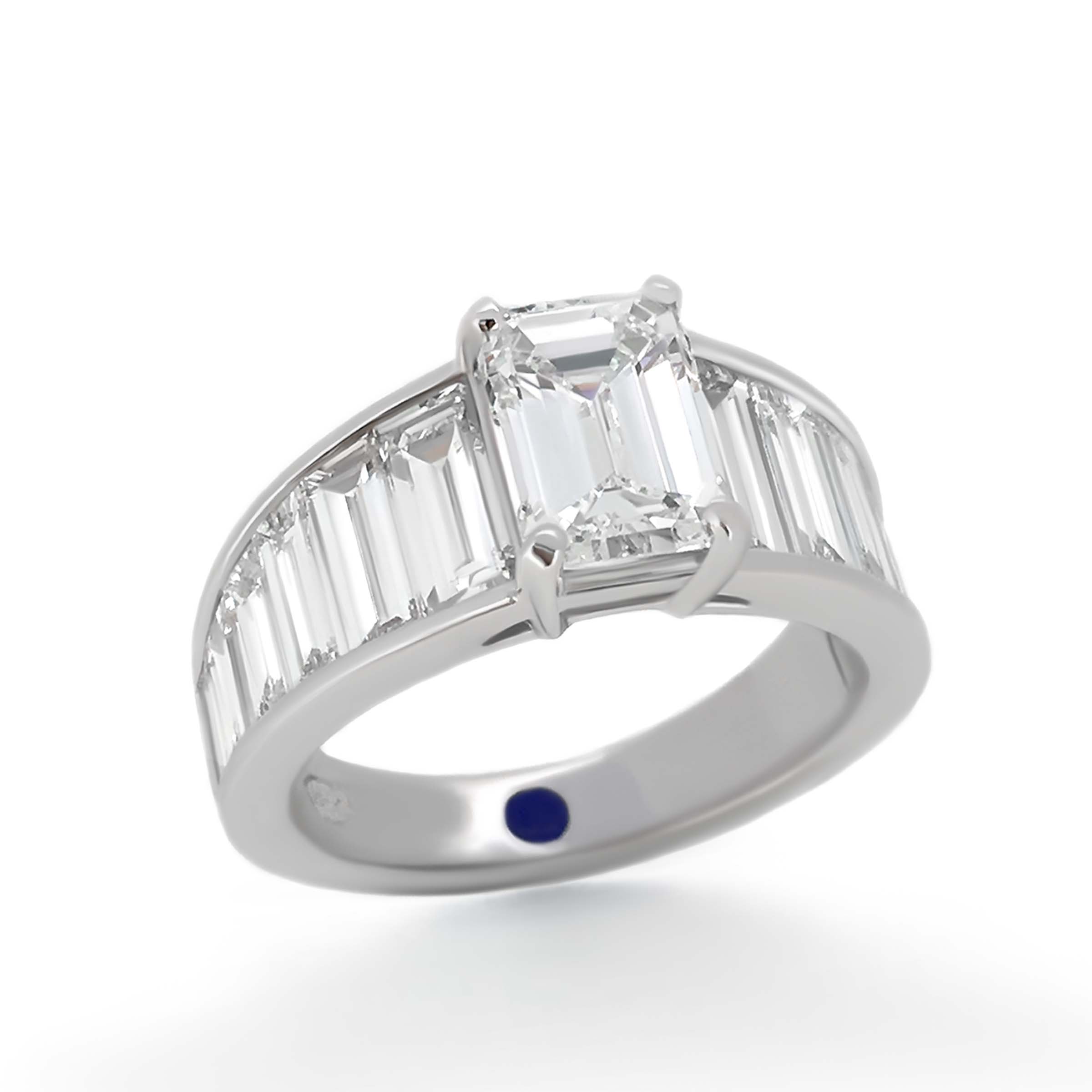 How To Buy An Engagement Ring
Most men have limited exposure to fine jewellery before coming to the decision to get married. With the exception of perhaps of buying Christmas or birthday gifts, most men don't browse jewellery stores. When a lady announces at a dinner party that 'we are engaged!', apart from noticing the rough size of the gem on the ring, the average gentlemen doesn't take much notice of the style or the other qualities that the ladies at the table find so admirable.
When you reach the point of realisation that a certain woman is for you, choosing a ring can suddenly seem daunting. A brief enquiry into the world of engagement rings opens the doors to an enormous spectrum of choices, a matrix of diamond grades and to make things worse, the sales person in each store advises something different. Here is the Haywards insider's guide to buying an engagement ring, cutting through the sales hype and providing advice from the bench of a custom jewellery designer. You can find the technical details for diamonds in other articles on our blog page, but the focus here is the process.
Step 1 – The Budget
Before you start to explore the options for your engagement ring, you need to have at least a rough idea of your budget. This will reduce the spectrum of options down to a manageable range – imagine walking into a car showroom and suggesting that all options are on the table, from a second-hand mini car to a brand new sports car, now times that by 10 for diamonds. There are several traditional guides as to how much should be budgeted, everything from one to three months salary. However, our advice is to work out what you are most comfortable with. An engagement ring is a gift loaded with meaning and is expected to last a lifetime; but it should not be the only measure of your commitment. If it's obvious that you have put some care and thought into choosing the ring, that will usually be more impressive than just buying the most expensive option you can afford.
Step 2 – The Rock
Step one is all about you and working out what you are comfortable with, Step two should be almost entirely about her. Bear in mind that most ladies will wear their engagement ring every day for as long as you are together, notwithstanding the times they ought to take it off (i.e. at the gym, scuba diving, rock climbing etc). Fashions and trends will come and go but an engagement ring should stand the test of time and so it is absolutely essential that she loves it. The main stone will be focal point of the ring and is the most expensive element, which makes it the most important part to get right. Occasionally we have gentlemen say things like "I am not sure if she will like this, but I have always liked squares so I am going for a Princess Cut." Or potentially worse "My mother has a sapphire engagement ring, so I thought to get the same for my fiancé". Choosing a stone based on these kinds of criteria leaves you in a situation whereby, whether she loves the ring or not will come down to luck rather than design.
The best way to get an idea of her preference is to privately make a comment about someone else's ring and note her response. If you don't think you can do this without giving your intentions away, it's best to involve a confidante to help you. Some ladies will have a range of options that they would like, but helpfully they also will have quite clear ideas on what they don't like. When it comes to engagement ring styles, beauty is in the eye of the beholder and right or wrong is purely personal preference. By surreptitiously finding out what she doesn't like, you can eliminate a huge swathe of options and create yourself a safe swim lane of stone options.
Step 3 – Choosing The Style
There is some scope in this step to add some of your own preference to personalise the gift, just so long as you do so with her tastes in mind. At Haywards our jewellery designers can guide you through the process of  how you can turn a conventional style into a ring distinct and personal to you. If you have a completely customised design in mind, we can take ideas or rough sketches and turn these into technical jewellery drawings. You can then get an exact impression of how your design idea looks in 3D.
It's worth noting that you don't have to go to extraordinary lengths of customisation in order to create a ring that is unique. Conscientiously choosing both the main stone and the style with her tastes in mind is likely to result in an engagement ring that she will love. Following this process is more likely to make the process of buying an engagement ring fun, rather than chore.
Email us directly at bespoke@haywards.com.hk with your questions about how we can help make the perfect ring for you and your partner.