Jewellery Reconstruction: Out with the old, In with the new…
Have you inherited any jewellery that's tucked away in a drawer because it's not quite your style? Or have you been given a piece of jewellery that you loved when you were first given it, but it hasn't quite stood the fashion test of time? Or Gents, does your other half never wear that fabulous birthday gift that you gave her eons ago? Maybe it's time to think about a little bit of remodelling. Let's face it, we could all do with some tweaks here and there from time to time. At Haywards, we are big fans of remodelling and reconstructing jewellery.
With just a pinch of inspiration and a lot of design nous you can turn something old and outdated into the most alluring and most wanted piece of bespoke jewellery. Here's how we make things happen…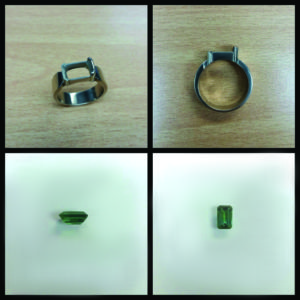 Take one tourmaline ring inherited from an aunt set in a very plain setting; the idea was to keep the piece as a ring but remodel it in a new and fashionable way. The client had decided that she wanted to make the ring a bit more exciting with extra diamonds in an art deco style. After a few meetings and design briefs we had agreed on a final design, which was then translated into a CAD (computer aided design). From then on our production team had taken over with the sourcing of precious stones, casting of the metal and completing all of the detailed finishing by hand.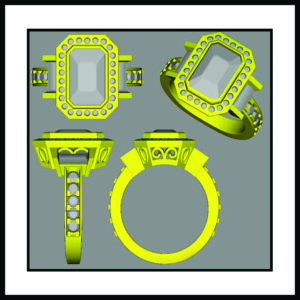 The tourmaline stone was originally set to sit horizontally across the finger. We decided to flip this around for a more elegant style and to elongate the finger. For the art deco look we decided to add a halo of small diamonds around the tourmaline accented with a diamond baguette on either side, which were in turn complimented with smaller diamonds on the shoulders. This arrangement of diamonds really enhances the tourmaline center stone and lifts the overall appearance of the ring. The results are stunning and exactly what our client had envisioned; a beautiful new piece of jewellery with a treasured jewel from the past.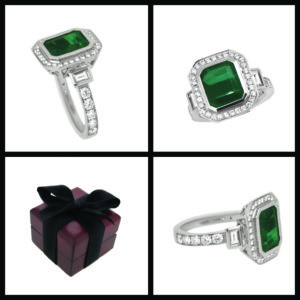 The second project was a yellow gold engagement ring with a round brilliant diamond set in a yellow gold heart setting inherited from a Grandmother. Our client won't mind us saying that this ring was definitely not her cup of tea! Our client's 40th birthday was approaching and she had recently had her second child. She wanted a ring to celebrate both her 40th birthday and the birth of her son.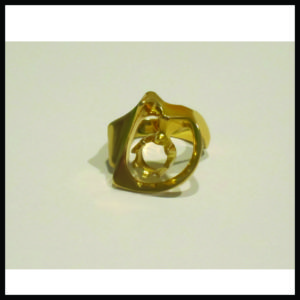 She had said she didn't want anything that could be deemed as an engagement ring and she didn't want to detract from her existing engagement ring. We decided on a dress ring that could be worn on her other hand to compliment her engagement ring. We replaced the yellow gold with white gold. We kept her Gran's rather fabulous round brilliant diamond as the centre stone and added marquise rubies to signify turning 40 and smaller diamonds to symbolise the birth of her son who was born in April (diamond is the birthstone for April). And voila, there you have it, a ring that celebrates and spans three generations: the Gran, the Granddaughter and the Great Grandson. Our client intends to keep this in the family for generations to come.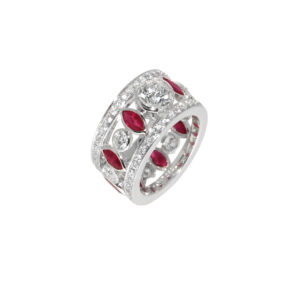 As you can see, it's well worth racking your brains to see whether you've forgotten about any old jewellery. Maybe it's time for a spring clean?! With just a little bit of inspiration you can certainly turn the old into the new! View these and other cocktail ring styles here.