Hearts, Romance and the Celebrity Bling Ring
Who would have thought that the heart shaped diamond engagement ring would make a comeback? Longtime the preserve of romantic diehards and even seen as a little kitsch in past years, the heart shaped diamond could well see a surge in popularity thanks to one Lady Gaga whose beau Taylor Kinney proposed on Valentine's Day.
And how did he do it? With a whopping heart shaped diamond (rumoured to be 8+ carats by jeweller to the stars Lorraine Schwartz).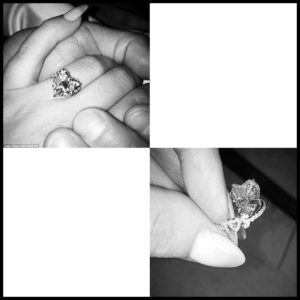 But was the substantial centre stone Lady Gaga's favourite part of the ring? It turns out No. According to her Instagram account her favourite part of the ring is the "T💗S" in white diamonds on the band. Stephanie is Lady Gaga's birth name, which according to the Lady, Taylor has always called her since their very first date.
If hearts aren't quite your thing, and you're looking for some engagement ring inspiration then how have other celebs tied the knot?
In at no.1, one of the most famous engagement rings, has to be that of Princess Diana and now sitting proudly on the finger of the Kate Middleton which means sapphires and diamonds once again are taking centre stage.
12-carat oval Ceylon sapphire surrounded by a cluster of 14 diamonds set in white gold
But 8+ carats and 12 carats are a mere drop in the ocean compared to Beyonce's 18 carat, flawless emerald cut ring with which Jaz-Z proposed.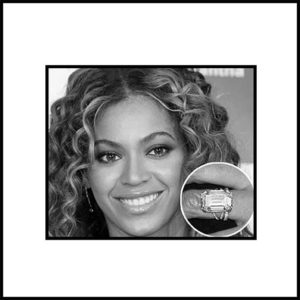 Beyonce's 18 carat, flawless octagon cut ring
If you're looking for something a little different than the classic engagement ring style, then maybe you'd like to take a leaf out of Scarlett Johannson's book who sports a vintage Art Deco ring on her left hand courtesy of her French beau Romain Dauriac. The ring features three round diamonds set in a rectangular Art Deco setting complemented with smaller diamonds.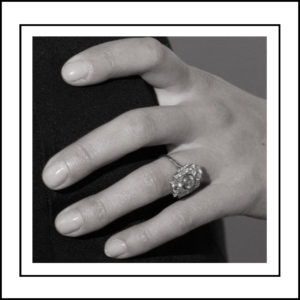 Scarlet Johannson's Art Deco design
If you're liking the idea of a non-traditional engagement ring, selecting a precious stone other than a diamond, will set you apart from the crowd.
Halle Berry wears a 4 carat emerald flanked by two diamonds set in textured yellow gold. Apparently, the ring is inscribed with symbols which only Halle and her husband Olivier Martinez understand.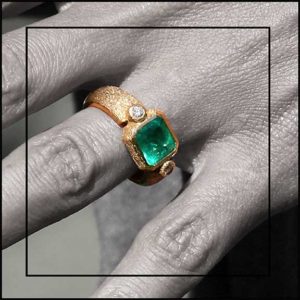 Taking a step back in time, JFK proposed to Jacqueline Bouvier in 1953, with a custom designed Van Cleef & Arpels engagement ring. This unique crossover design features a 2.84 carat emerald and a 2.88 carat diamond.
Another suitor who decided to take the plunge and custom design the ring of his intended was Brad Pitt who is rumoured to have spent a whole year designing Angelina's ring. The ring has a 7 carat emerald cut centre diamond accented with 9 carats of tapered emerald cut diamonds. It's just a shame that he got it wrong…Angelina apparently prefers emeralds to diamonds!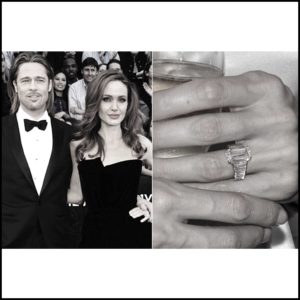 Angelina Jolie's 7 carat emerald cut ring
Choosing a different shape from the traditional round brilliant, which is still very much the diamond shape of choice when it comes to engagement rings, also makes for a more unusual ring.
We've already seen, Lady Gaga's heart, but rectangular, square, marquise, pears and ovals are also other options.
Back in 1998, David Beckham proposed to Victoria Adams with a 3 carat marquise diamond set in yellow gold. Since then, Victoria has upgraded her ring numerous times (about 15!).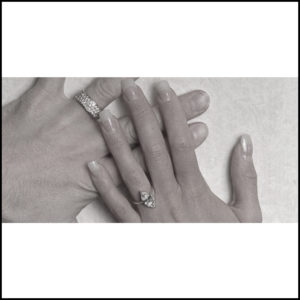 Victoria Beckham's original ring, a 3 carat marquise diamond
Another way to turn the ordinary into the less ordinary, is to turn shapes on their side. This works well with the marquise and oval cut. Catherine Zeta Jones bagged herself an antique 10 carat marquise diamond, and it's set on its side.
An antique 10 carat marquise diamond is the centre stone of Catherine Zeta Jones' ring
Another shape that's very popular is the princess cut (square) and Jessica Biel wears hers very well. Jessica's diamond is surrounded by a double halo of diamonds – a design feature that enhances the appearance of a stone and makes it look bigger (not that she needed any help in this department!). The centre diamond is flanked by a small round aquamarine on each shoulder. Not only a nice design touch but it also incorporates Jessica's birthstone into the ring.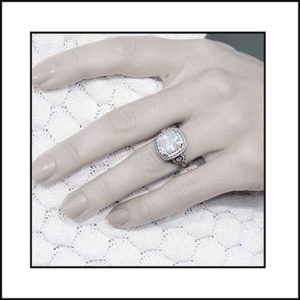 Jessica Biel's diamond and aquamarine engagement ring
So which design will you choose?
At Haywards, we make each ring to suit your taste and preferences. Whether you're looking for something impressive and exclusive or something that is a little bit more subtle we are here to help every step of the way. From stone selection to design advice, we will guide you through the process of creating your bespoke piece. For more information email us at bespoke@haywards.com.hk or click here to read about our services.